Yesterday evening while at Pet Smart I saw a Yorkie guide it's owner to wherever she wanted to go. Detecting stubbornness, I laughed at the five-pounder taking the lead. Her owner said, "Has anyone ever told you look like Jackie Kennedy?" I smiled and thanked her. She added, "You should get yourself one of those hats." With all the recent media coverage the Kennedy family has resurfaced in everyone's mind. The last few weeks I've thought about a fashion post but with her statement came a historical inquiry mixed with my own views.
The unique and iconic 1950's and 1960's accessory has an interesting history. According to Wikipedia the pillbox hat was first worn by Roman soldiers during the late Roman empire, http://www.roman-empire.net and was known as the pilleus or "Pannonian cap." As military headgear, it often includes a chin strap, and is seen in ceremonial occasions in some countries, primarily in the Commonwealth of Nations. A pillbox cap, also called a kilmarnock, is a modern manufacture of the traditional headdress worn by members of almost all Gurkha regiments.
At the time of the Kennedy administration, I would guess that it symbolized prim and proper high fashion, calling to mind the match-matchy ladylike fashion of the day. The early 1960's were in my opinion more elegant than those the latter part of the decade when the androgynous hippie look took over. Jackie Kennedy's first pillbox hat was crafted for her by Halston in bone white wool to wear at her husband's presidential inauguration. Even though she did not consider herself much of a hat wearer, she found the shape of this simple yet stylish hat so flattering that it became her signature hat.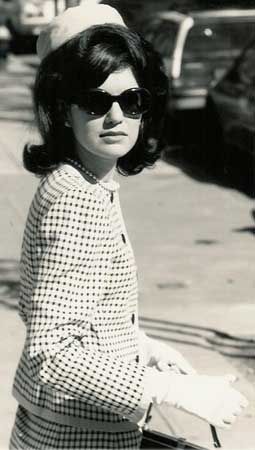 Why is the pillbox hat so flattering?
In my opinion it shows classic style. Anyone can put one on and the simple shape will accentuate your features in a gentle way. Like other vintage hats, it can be pinned or placed at different angles to get different effects ranging from coy to dramatic. The best part is that it goes with just about anything, giving a whimsical, delicate look to your outfits depending on what you choose.
Since the shape is so simple, embellishments can often be added for more of a festive look without looking overdone. You can adorn with a piece of netting to create a veil and add a touch of mystery. Or you can experiment with brooches. Those who are adept with a stitch can add trim to the top ring or around the bottom of the hat, or sew on clusters of beads of gems. And for an all time extravaganza, you can make it into a bridal veil by attaching a snood, in true Celtic style.
Personally, I like hats, and prefer a streamlined, non-fussy look with clean lines. It's why my hat of choice has always been the beret. But I just may incorporate a pillbox into my wardrobe, my only question is, where will I wear it? It may end up in one of my hat boxes giggling with the berets.